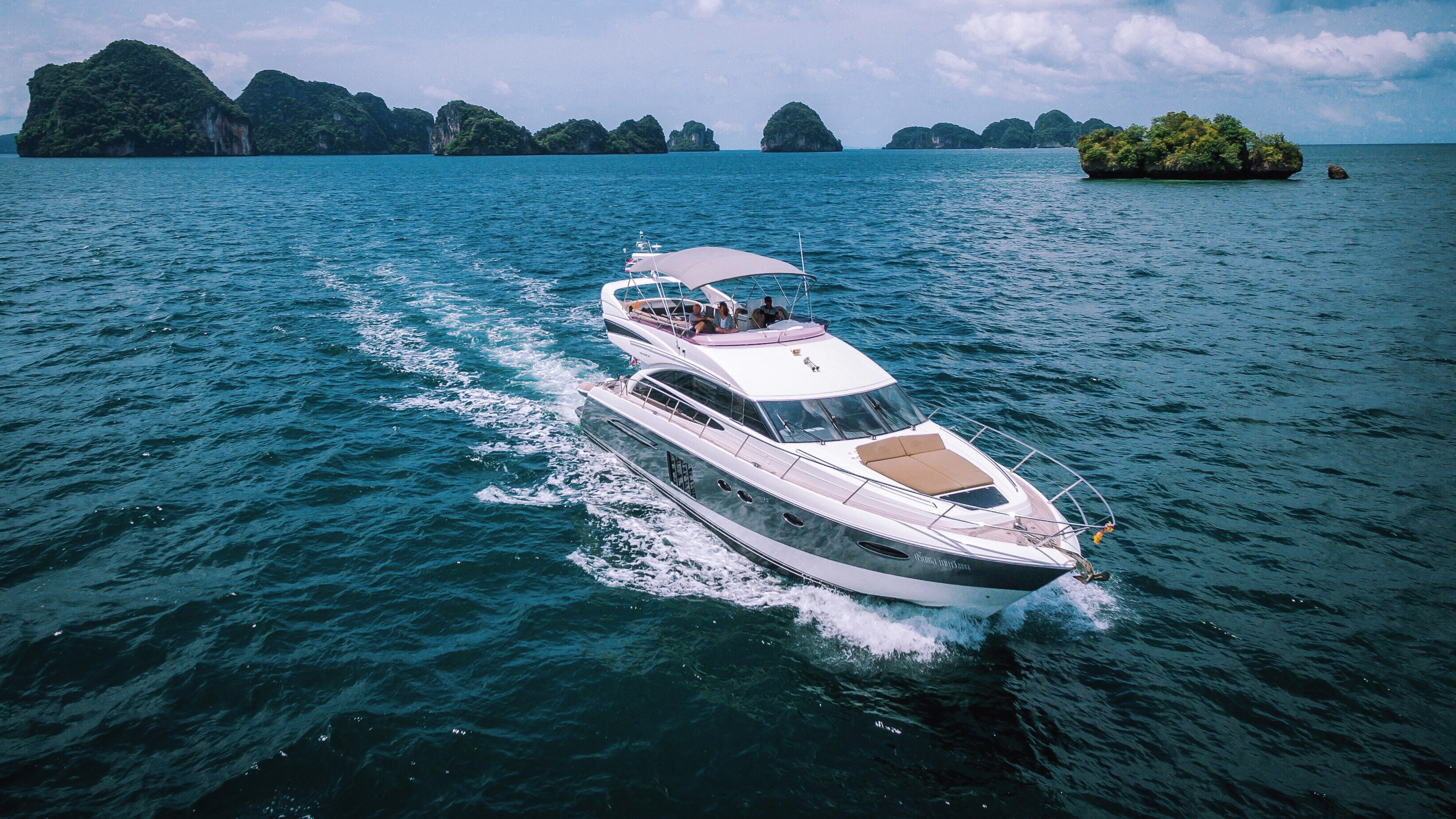 Our Yachts for Charter
Choose from a wide selection of boats ranging from luxury motor yachts to classic sailing yachts. We have every type of boat available to meet your needs. We also take custom orders and will help you acquire a specific yacht.
About Asia Yacht Agency - Yacht Management
Asia Yacht Agency is based on the tropical island paradise of Phuket, Thailand – for good reason. Aside from being one of the world's great yachting ports and destinations, it is ideally situated to reach out to the entire yachting region.
Asia Yacht Agency is an experienced and highly professional yacht management specialist. Contact us to discuss having AYA manage your yacht. We believe you'll appreciate what we have to offer you.
Contact AYA
Yachts for Sale
AYA would love to manage, maintain, and sell your yacht for you. We've been doing this for over 20 years, so you can rest assured that your boat is in good hands and every effort is being made to sell her for you.
Testimonials
"
Had such a wonderful time, thank you so much for everything! The gorgeous weather. Super nice staff, we can't wait to come visit again soon!!
"
"
Thank you to the wonderful fun crew for a fun trip we enjoyed eve thing.
"
"
Today was a lucky day for us, we saw dolphin up close! Thanks to the crew we were very grateful for today. Today was a wonderful trip and we would cherish today as one of our most wonderful memories.
"
"
We had sooo much fun and got a taste of Phuket's beautiful island.
"
"
Thank you so much, Uncle Joss! Had a great time with Rose and the crew. We will be sure to do it again one day! Love Love
"

"
Everything perfect! The crew is the best All good and the staff so friendly and good!!!
"

"
We had a wonderful day today the crew prouded very professional service looking forward to have another trip with them!
"
"
Thank you so very much for us amazing experience!
"

"
Wonderful trip! Many thanks.
"

"
AMAZING DAY ทริปวันนี้สนุุกมากค่ะ พนักงานน่ารักทุกคน ดูแลเป็นอย่างดี ทุกคนมีความสุขมากๆ ทำให้อยากกลับมาอีกรอบ หวังว่ามีโอกาสจะกลับมาอีกนะคะ Thank you very much…
"

"
We had a wonderful day today. The crew provide very professional service. Looking forward to have another trip with them!
"
"
It's a nice pleasure and enjoyable ride with Lady Kathryn in Phuket. The yacht is one of the best and equipped with all engines. The crew is too good. They are one of the best. My best wishes to the team. Everyone is very very good Thanks
"
"
Thank you so much for such a wonderful day! You have been best hosts, and we thoroughly recommend the experience. Once again, thank you for such a wonderful day and special service. We will always remember it.
"
"
Thank you so much for everything. We had a wide range of age and activity and everyone had a wonderful time. Michael (papa), Marie (nana), Tom, Andrea, Alex (3yrs) and Chris (9 months)
"

"
Fantastic trip – beautiful scenery! Wonderful crew! Thank you so much
"
"
It was a wonderful trip. Service was so good the team was good too.
"
"
Dear Next riders, Enjoy the sun kissed skin, Salty hair, endless laughter, superb service, and a one of a kind adventures! Will, Maung, Chit, Jasmine, Justin, Melody, Tiffany, Angel, Jean
"

"
Service was amazing we felt at home. Will definitely be back!
"
"
We had an amazing experience! The boat crew was very nice and accommodating. We felt right at home on our vacation. Thank You! We will be back!
"
"
Lovely and Fantastic trip lovely!
"
"
WOW! What an amazing experience and what an amazing and unforgettable service. We all really love everything, the beautiful boat, the beaches (Phi Phi Island) And Nuch was the BEST. She really make all even more special. Thank you and hope see you soon. Wow love it
"

"
Rose, Yah, and Captain. Thank you – Absolutely beautiful, thank you!
"
"
Thank for a wonderful. Fun, Sunny day! See you again soon
"

"
I'm so happy today. The boat is very nice. We have so much fun and so happy Service is very good. Thank you, Polly.
"
"
Thank you for everthing.it was amazing Thanks for good memories ☺ you are the best!! Very nice staff and amazing boat all Recommendation!
"
"
Thank you Captain and crew. Come to Hong Kong!
"

"
Thank you , it was a great trip- We love Thailand-Awesome crew! Mexico.
"
"
We had a very nice time. Captain made a nice tour-Crew took good care of us.Greetings from Holland and China.
"
"
Thank you so much for the beautiful day. We hope to be able to come back soon- Thank you again for your kindness. Spain.
"

"
I was very happy. This is the best service i have ever got.Beautiful food, very tasty.Very exciting trip.Best day of our trip.Superb yacht. Japan.
"