Today was among our favorite days we have ever had. Thank you all so much for creating such special memories for us and for keeping the Singha and Passion Fruits coming! Can't wait to be back to see Phang Nga Bay with you all. Such a lovely day - more than perfect! Thank you so much! We so appreciated your kindness. Also, here is a drawing of me stand-up paddleboarding and Zac falling off.
Leopard 43
The most amazing experience with such a special crew! Monkey beach was my favorite!! Beautiful memories made today. Thank you for everything. Thank you for having us! It was a fabulous day of dauting, eating, swimming, as well as enjoying your company. We are excited to come back.
Mayavee
Wow!! What a wonderful trip!! Thank you so much for such an amazing day. It was truly something that created memories we will always remember. Thank you for your hospitality and kindness. I loved watching you play with Charle. She had an incredible day.
Silvercraft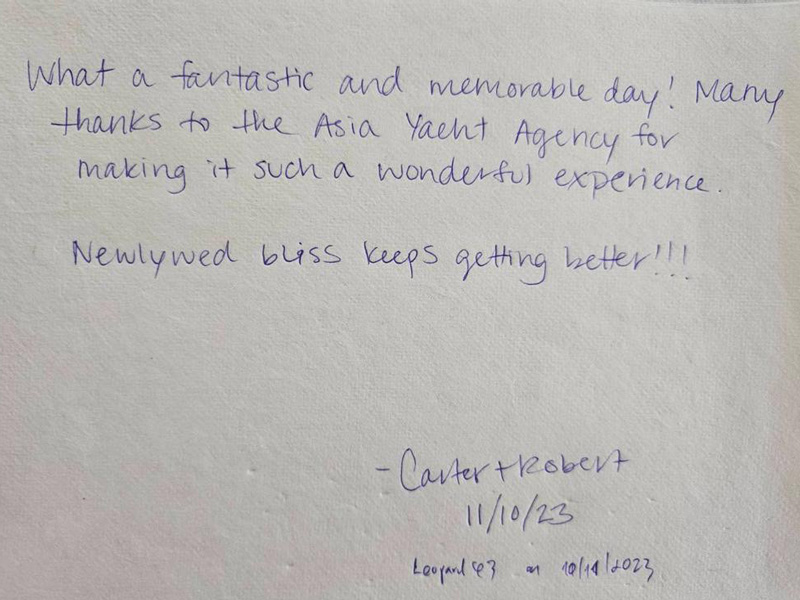 What a fantastic and memorable day! Many thanks to the Asia Yacht Agency for making it such a wonderful experience. Newlywed bliss keeps getting better!!!
Leopard 67
Dearest Asia Yacht Team - THANK YOU so much for an unforgettable experience on our first visit to Phuket. Memories and views to last a lifetime. Very grateful for you!
Estrella 43
Thank you all for an amazing trip to Phi Phi! The hospitality was outstanding! Definitely will be coming to you again next time!!! So many great memories. Thank you for an incredible day!
Mayavee
Had the best day today with the crew on board! They were so attentive and caring, making the experience unforgettable. Really appreciated and enjoyed it.
Riva 70
Thanks to all the crew for making today's trip so pleasant. The food and fruit were delicious, and the service was excellent—friendly and kind. Hope to see you again soon!
AYA
Thank you to the incredible team for the most special day around the islands and for finding us the most magical beach to swim at! Thank you Rose + the whole team
Silver Craft 36
To an amazing group of people - Thank you for your hospitality and kindness. Thank you for celebrating my birthday with me... a bit early! Sending lots of love on the journey.
Mayavee
What a wonderful day at sea! It felt like an entire week. We got to see so much, swim in the ocean, and experience a beautiful sunset. This wouldn't have been possible without the phenomenal crew who took such good care of us, never taking a minute off. Thank you so much! We hope to come back soon and get to experience your beautiful country! Thank you times 100,000. Big hugs,
Azimut 68
We had a fantastic and wonderful day out with the amazing team on board! Rose was a great host; she did everything, even without being asked. She cared for every guest, played with the kids, and made sure everybody felt well and comfortable! Many, many thanks from our group of friends.
Mayavee